Awards
Gulliksson is ranked as one of the leading law firms by various ranking institutes. Here we have exemplified what some of the largest international institutes write about us.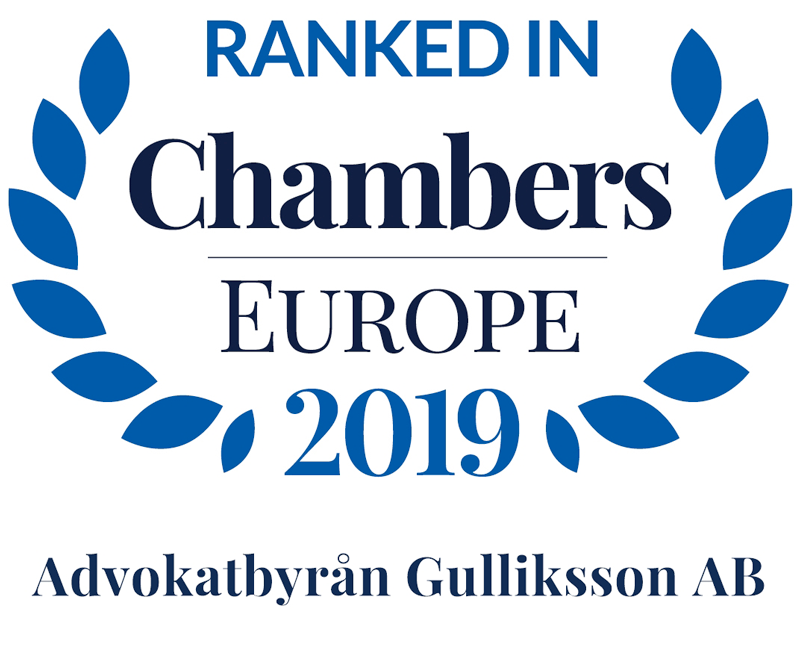 Advokatbyrån Gulliksson is ranked in Chambers Global. Chambers guides are the culmination of thousands of in-depth interviews by the largest research team of its kind and are trusted globally to objectively rank the world's best lawyers and law firms.
CHAMBERS EUROPE 2019
Clients appreciate the firm's depth of expertise: "They are very knowledgeable and always up to date with current IP developments."
Mattias Malmstedt is particularly active on patent and trade mark infringements. He also assists clients with portfolio management. Malmstedt has a number of clients from the pharmaceutical sector. He has been described as "smart, straightforward, engaged and savvy – a pleasure to work with."
CHAMBERS EUROPE 2018
CHAMBERS EUROPE 2017
Interviewees highlight Jonas Gulliksson's long standing in the Swedish IP market. He advises on litigation concerning trade marks and patents and also handles both national and international arbitration. His recent highlights include acting as lead counsel for Accord Healthcare on patent infringement proceedings.
Mattias Malmstedt handles litigation concerning patents and trade secrets, with a particular focus on the pharmaceutical and biotech sectors. He also advises on marketing law and commercial issues. Sources praise his responsiveness, noting that he gives "swift and accurate support."
What the team is known for Full-service practice with an in-house patent unit. Assists with a range of matters, from strategy and enforcement to prosecution and commercialisation. Noted for its advice on EU trade mark matters.
Strengths Sources describe the team as "skilled, responsive and pragmatic."
Work highlights Represented Accord Healthcare in cases concerning patent infringement, invalidation and breach of injunction.
CHAMBERS EUROPE 2016
"Of counsel Jonas Gulliksson is a senior adviser within the firm's IP practice who continues to gain recognition from market sources. His practice encompasses patent, trade mark, copyright and licensing litigation. He is also experienced in resolving disputes through mediation and arbitration.
Mattias Malmstedt is a well-respected litigator, offering particular expertise in patent, trade mark, design and copyright disputes. He offers specific sector expertise within pharmaceuticals and biotech and has significant experience of handling cross-border cases.
Managing partner Jens Olsson regularly handles contentious IP mandates involving patents, copyright, trade marks and design. He has notable experience of representing clients in both national and international arbitration and litigation proceedings, including cases before the European courts."
CHAMBERS EUROPE 2015
"Hans-Anders Odh is great at understanding the business rationale; he is hands-on and down to earth," say impressed clients. He has an extremely broad practice, covering patents, trade marks, designs, copyright and trade secrets as well as technology and licensing matters."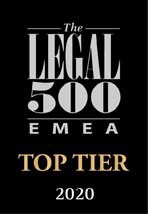 Legal 500 2019
The team at Advokatbyrån Gulliksson 'never fails to deliver straightforward advice on complex issues' and advises a strong client portfolio including Ikea, Volvo and Teva on IP work. Matthias Malmstedt, who 'knows how to best use all of the tools in the legal toolbox', represented Eisai in the Swedish Patent Court following a filed writ of summons, and worked with newly promoted partner Magnus Dahlman to represent Sandoz in a patent dispute. Managing partner Jens Olsson is singled out as 'a skilled lawyer, who is good at seeing the strategic options without losing sight of the details'.
Legal 500 2017
Advokatbyrån Gulliksson is 'a force to be reckoned with'. Managing partner Jens Olsson is 'pragmatic and business-oriented', and Mattias Malmstedt 'combines excellent legal skills with an understanding of complex technology'.
Another key figure is senior counsel Jonas Gulliksson.
The firm is representing Husqvarna as claimant in a patent infringement case concerning robotic lawnmowers, and is acting for Tetra Pak and Red Bull in trade mark cases.
Legal 500 2016
"Advokatbyrån Gulliksson's five-partner team impresses with its 'very short response times' and 'good value for money'.
"Mattias Malmstedt is representing Husqvarna in a patent infringement proceeding before the District Court of Stockholm concerning a patent related to one of its robotic lawnmower products."
"Jonas Gulliksson is well regarded in the field."
"Mattias Malmstedt, Jens Olsson and Jonas Gulliksson are also highlighted and selected as "key individuals."
"Hans-Anders Odh provides excellent practical advice…"
IAM Patent 1000 2019
Gulliksson's commercial service is specifically designed to meet the needs of a high-level client base for whom intellectual property is pivotal. A close association with top-tier prosecution firm Ström & Gulliksson enables the lawyers here to efficiently tap into a deep reservoir of technical expertise, which proves to be a distinguishing asset in litigation. The firm is also a boon to rights holders looking for consistency of quality and approach across the contentious/non-contentious divide. With finesse, captain of the side Mattias Malmstedt handles large cases for top pharmaceutical companies, often with proceedings occurring in parallel across multiple jurisdictions. "He is a fantastic litigator who knows that you can win or lose a case on the detail. He has a meticulous mind but also never loses sight of the overall strategic and commercial objectives." He frequently links up with Magnus Dahlman to give clients a strong one-two punch. Dahlman, who joined from Setterwalls in 2017 and then made partner in 2018, is a repository of unshakeable trust for generic drug companies. "He understands the industry and is an experienced, calm, tactical and convincing litigator." Managing partner Jens Olsson is another "great lawyer to have on your team in cross-border litigations and transactions". "It is impressive how well-rounded his knowledge of intellectual property is."
IAM 1000 – The world's Leading Patent Litigators 2018
Intellectual property is a central pillar at this business law firm; its enviable contentious capabilities are complemented by precision prosecution provided through a unique collaboration with sister agency Ström & Gulliksson, to make for a seamless A-to-Z service. Operating out of five native offices, the set is "extremely responsive, and communication is straightforward and adapted to the level of knowledge of each individual client". Computer printer manufacturer Seiko Epson is one of a slew of new patrons which have come knocking when faced with must-win disputes – a patent infringement suit relating to the marketing and sale of ink cartridges is being orchestrated by contentious chief Mattias Malmstedt, whose "dispute resolution skills are outstanding". The head of the life science and litigation group is "a real pleasure to work with"; he is also currently fighting on the front lines for leading outdoor power product manufacturer Husqvarna in a clash over robotic lawnmowers.
Mattias Malmstedt and Magnus Dahlman are highlighted individuals in Patent Litigation.
IAM 1000 – The world's Leading Patent Litigators 2016
"A pristine track record in patent litigation ensures that this celebrated commercial ensemble remains a prime pick for rights holders embroiled in high-stakes disputes. With grandee Jonas Gulliksson winding down his practice, the "thoughtful, calm and extraordinarily well-presented" Mattias Malmstedt has confidently stepped up to the mark and makes a deserved debut in the IAM Patent 1000. The cool-headed operator resolves disputes – he doesn't just fight – and has represented prestigious Swedish companies such as IKEA and Tetra Pak with distinction. "Mattias is almost like a bloodhound in that he never gives up. He knows all the tricks in the book, so can't easily be fooled. As one of the best in Sweden, he litigates with lethal precision and excels due to his natural understanding of technology."
The IAM publication – The world's Leading Patent Litigators
"Hans-Anders Odh a high profile player of the future…an important practitioner who must be mentioned…"
MIP 2018
Gulliksson is a boutique law firm recommended for trade mark protection, IP disputes and transactions. Jens Olsson is managing partner and one of the experienced IP litigators in the firm. Other notable lawyers for soft IP work are Per Ericsson, Cecilia Tholse Rogmark and Mattias Malmstedt. Rogmark also has a copyright practice. Hans-Anders Odh and Mikael Karlsson are among the IP transactions specialists in the firm. The partners are supported by a team of associates including rising stars Magnus Dahlman, Ulrika Nordenvik and Erik Esaiasson. Dahlman joined the firm in 2017 from Setterwalls. The team collaborates with sister patent attorney firm Ström & Gulliksson.
MIP 2017
Mattias Malmstedt, Hans-Anders Odh and Jens Olsson are selected as IP Stars.
Gulliksson offers the clients a complete range of services and high degree of specialisation within the field of intellectual property law and litigation. Gulliksson has its origin in the patent law firm Ström & Gulliksson, founded 1975 in Malmö. They now run separately, but with the unique collaboration in shared offices at several locations in Sweden. In this way the firm can offer the clients a unique and complete range of services within the field of intellectual property rights and litigation.
Gulliksson can be described as:
With Swedish measures a unique combination of a patent law firm and a business law firm (with IP specialization)
Covers the whole value chain in terms of IP, from strategies – searches – filing & prosecution – commercialisation – enforcement & litigation
High success rate and many land mark IP court cases (Supreme Court)
High profile clients
Very strong patent litigation team, covering all industry sectors
Renowned experience in cross-border litigation and complex IP-work
Highly praised for its business approach when providing legal advice
MIP 2016
Hans-Anders Odh and Mattias Malmstedt are selected as IP Stars.