In December 2020 the Swedish Patent and Market Court held in a landmark judgement (case no PMT 15833-18) that the shape of the iconic Jaguar C-Type is protected by copyright. The case is the first in Sweden regarding copyright protection for the shape of a car.
Advokatbyrån Gulliksson represented the plaintiff in the case. Hans-Anders Odh, partner at the firm said: "We are proud to have been able to assist the copyright owner in this great win. This is the first verdict in Sweden attributing copyright protection to a shape of a car as a work of applied art. Moreover, it is very likely to be one of the first throughout the EU. As such and provided it gains legal effect, it will become a landmark case with potential to improve the car industry's possibilities to protect car design in the future in Sweden and in the EU".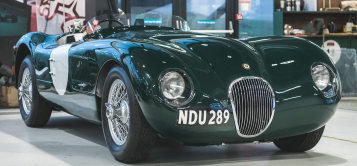 The sports racing car Jaguar C-Type was designed by Malcolm Sayer in 1950- 1951 for Jaguar Cars. As the current holder of the rights to the car, Jaguar Land Rover Ltd brought the copyright infringement against a Swedish company manufacturing Jaguar C-Type replicas vehicles in Sweden. The Patent and Market Court found that the shape of the Jaguar C-Type is original and constitutes a copyright protected work created as a result of Malcolm Sayer's free and creative choices. Further, the court found that the copyright was infringed by a car being built by the defendants, the first of a number that they planned to build and sell. The court inter alia prohibited the defendants upon a fine from producing copies of the Jaguar C-Type and from making it available to the public. The court also determined that the defendants are liable to pay reasonable compensation for the exploitation.
Amanda Beaton, Global IP Counsel for Jaguar Land Rover Ltd, said: "This is an important case in the evolving copyright landscape across the EU. This beautiful vehicle is part of our company's heritage and this ruling helps us protect that lineage, as well as the significant investment that we have made in our unrivalled design".
The judgment has been appealed by the defendants to the Patent and Market Court of Appeal.
Advokatbyrån Gulliksson's litigation team consisted of Hans-Anders Odh (head of litigation team), Ulrika Nordenvik and Emil Ekdahl Norling.