Utmärkelser
Gulliksson har blivit rekommenderade av flera oberoende rankinginstitut som en ledande advokatbyrå inom immaterialrätt. Här följer några exempel på vad några av de internationella instituten har skrivit om oss.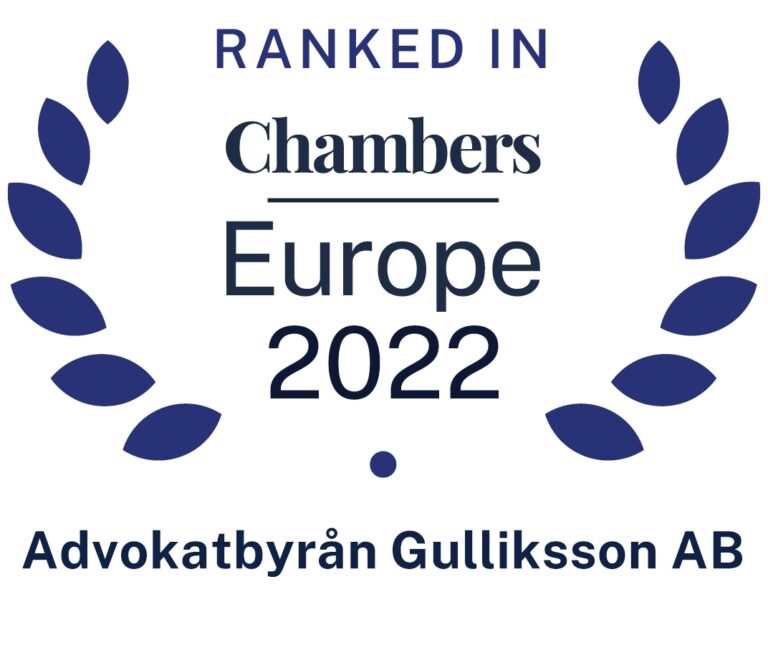 Advokatbyrån Gulliksson is ranked in Chambers Global and Chambers Europe 2022. Chambers' guides are the culmination of thousands of in-depth interviews by the largest research team of its kind and are trusted globally to objectively rank the world's best lawyers and law firms.
     
Legal 500 2021
Testimonials
'Per Ericsson – Can think of no one with a better reputation in Sweden. Always positive, always accessible, best of reputation. Knows just about everything there is to know, yet super humble and would always pull in a colleague if he thinks they know a subject better or have relevant experience. In addition a real nice person to be with. Not the reserved cliché of a lawyer.'
'They have extensive experience across several jurisdictions and industries, an ability to quickly understand complex issues and you can tell the lawyers genuinely enjoy what they do!'
'Magnus Dahlman is a highly experienced and knowledgeable litigator with an eminent flair for presenting cases in a thorough and detailed fashion.'
'The team is proactive and makes clear recommendations on how to proceed with different issues. The team drafts in different people with different specialities as needed but only after having consulted with the client.'
'Gulliksson continues, as always, with a very high level of expertise in advisory matters. Speed and high quality are a sign for them. As a customer, we always feel safe with Gulliksson as our legal representative.'
'The team is really good with IP licensing.'
'Jens Olsson is a star. Always a pleasure to work with and recommend him to anyone in need of IP advice in Sweden.'
Previous testimonials
'This practice has a deep knowledge of EU trade mark law and litigation, and is properly equipped to successfully deal in pan-EU trade mark litigation.'
'Gulliksson is extremely reliable in their delivery and quality, especially in the field of intellectual property. Their unique collaboration with the patent firm Ström & Gulliksson creates an edge on the Swedish market that no other firm can compete with in patent litigation.'
'Magnus Dahlman […]  simply top-tier litigators, with a solid understanding of their clients businesses. The team is very competent and business minded. Straightforward advice is combined with an academic touch.'
'Senior associate Erik Esaiasson is a pleasure to work with and is particularly strong in matters with an EU nexus.'
'In my view, the firm has lawyers with a much better understanding of patents and patent law than other law firms in Sweden. This makes patent litigation, when cooperating with my firm, a very enjoyable experience.'
'Jens Olsson always provides sharp, strategic and tactically sound advice to our mutual clients.'
'Brings a unique combination of specialised skills in IP matters combined with humbleness, courage and business understanding.'
'One of the strengths of the practice is the speed with which they answer and address your problems. They have an excellent network of foreign contacts which provides country-specific advice. Their knowledge of the law is excellent.'
'Advokatbyrån Gulliksson is among the elite within intellectual property rights in Sweden.'
'Per Ericsson has outstanding competence, bringing courage while being nuanced in his view. You couldn't ask for a better legal partner.'
'Cecilia Tholse is the partner I have worked most closely with. She is always available, always helpful and resourceful.'
'Therese Grennard and Magnus Friberg are two individuals who have been very helpful. They provide precise and swift advice.'
IAM Patent 2022
Silver – Firms: litigation
"A formidable presence in the courtroom, Gulliksson's lawyers are thorough, hard-working and innovative in their approach, and they never miss a single detail in complex cases." They regularly act on behalf of industry heavyweights in the pharmaceutical, life sciences and technology industries, and have recently been representing Bosch in proceedings against Electrolux, as well as Sandoz in a tricky dispute concerning three patent families. "An absolutely brilliant and phenomenal litigator", Magnus Dahlman took the lead on the latter. His knowledge of regulatory issues brings an added dimension to the practice, and, similarly, in Malmö Jens Olsson combines his IP and marketing law knowledge to secure crisp results in both contentious and transactional settings.
IAM Patent 2020
"Top-tier firm Gulliksson has an experienced, diligent and knowledgeable squad that have a presence in the courtroom." It works side by side with premier prosecution outfit Ström & Gulliksson "to gain a firm understanding of technical concepts and swiftly implement them into a judicial framework". The set is fazed by nothing; and with Magnus Dahlman and Jens Olsson on deck, rights holders facing critical disputes can rest easy. "A premier choice for life science briefs and a tough adversary, Magnus has a keen eye for detail and calmly puts forth convincing arguments." Based in Malmö, "Olsson expertly reads any room he is in, be it in court or at the negotiating table, and provides sharp, strategic and tactically soundadvice".
The IAM publication – The world's Leading Patent Litigators
"Hans-Anders Odh a high profile player of the future…an important practitioner who must be mentioned…"

MIP 2022
Hans-Anders Odh is ranked as Copyright Star and Jens Olsson and Cecilia Tholse Rogmark as Trade Mark Star. Magnus Dahlman and Ulrika Nordenvik are ranked as Notable Practitioners.
Gulliksson offers the clients a complete range of services and high degree of specialisation within the field of intellectual property law and litigation.
Gulliksson has its origin in the patent law firm Ström & Gulliksson, founded 1975 in Malmö. They now run separately, but with the unique collaboration in shared offices at several locations in Sweden. In this way the firm can offer the clients a unique and complete range of services within the field of intellectual property rights and litigation.
Gulliksson can be described as:
With Swedish measures a unique combination of a patent law firm and a business law firm (with IP specialization)
Covers the whole value chain in terms of IP, from strategies – searches – filing & prosecution – commercialisation – enforcement & litigation.
High success rate and many land mark IP court cases (Supreme Court).
High profile clients
Very strong patent litigation team, covering all industry sectors
Renowned experience in cross-border litigation and complex IP-work
Highly praised for its business approach when providing legal advice.